First I want to clarify that it's called Tuesday's List and not Top 2 Tuesday. Top 2 Tuesday is a different blog. My bad!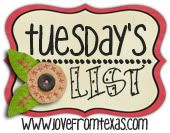 I will start with Derek's list because it's easy...
And he occasionally records a football or basketball game if he is not home or I don't let him watch it :)



Now for my list. I will start with my all time favorite



One Tree Hill! My roomate got me hooked on it about 3 years ago and I absolutely love it now.

The rest are in no particular order
I am team Kate 100 percent. Yes, she can be bossy but how could you not with that many kids?



Bachelor/Bachelorette
The only thing on MTV I watch

Real Housewives of New Jersey. I only watch the New Jersey and Orange Country housewives

Quints By Surprise. Adorable family and I am obsessed with their kids names


I dont know how they do it but I love watching this family
And the last one I love watching but don't record it because it's on a lot so our DVR would fill up super fast is
This show REALLY makes me want to buy a house. I told my brother we are going to be on this show one day and he is going to be our realtor. He ruined the show a little bit for me by saying that it's actually not the peoples first time looking at the houses. They have to have already made an offer on one of the houses to be on the show. Thanks a lot Tony :) Still love it though!