My
sister
had a great idea of starting something we (and hopefully others) will do every Thursday called...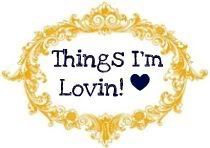 For my birthday, my dad got me a scentsy candle. I LOVE it but the light bulb has recently went out. I have no idea where to get a new one for it so I lucked out and found a knock off at Wal-Mart!! I introduce you to the Better Homes and Garden Cream Wax Warmer
These are so great because you just plop in a cube of the wax (and believe me, you only one to put in one cube), turn it on, and it makes your house smell good in seconds! I currently have the Apple Cider smell and it smells great. I also love that unlike candles, you can leave this on all day and not have to worry about your house burning down if you forget to turn it off.
The Lady Antebellum CD. I have been wanting it since we saw them in concert but finally went and bought it. I love so many of their songs.
My Garmin!! I couldn't count how many times I would have gotten lost here in KC if I hadn't had my Garmin. Not only can I put in the address for where I want to go, but I can type in things like Target (duh) and it will tell me where the closest ones are. We use the Garmin a lot when we want to find a restaurant we haven't been to. We just click the category of food we want and up pops lots of close restaurants!
DVR! I know this has been popular for awhile but we didn't get it till we moved to KC. I love it!! I can record shows during the day when I'm not at home or Derek and I can record a show when the other one won't let them watch it :) The shows I record will be a whole other post (I think that's on the list for Top 2 Tuesday next week)
Check back next Thursday for a new list of Things I'm Lovin!